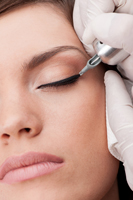 EYES
The application consists of defining the lash line and bringing out the shape of the eye. Your makeup stays perfect all day long: no more colour build-up in the corners and no more "raccoon eyes"!
The size, colour and shape of the line will vary according to what the customer chooses. The pigment is implanted close to the lash line to ensure a natural look. A technique by which the pigment is implanted in tiny dots, creating an impression of volume around the lashes, is a practice that's very popular with men.
Liven up your look... it's possible with permanent makeup!
---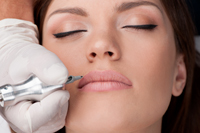 LIPS
Applying colour to the lip area gives definition back to lips that have faded with age. We can also correct asymmetries and make lips look fuller by extending the natural line. Or you can opt for permanent "lipstick" through a technique that covers the full lip area with the shade of your choice, keeping your lips "freshly made up" at all times. Permanent "lip liner" around the lip contour area also stops lipstick from migrating into fine lines around the mouth by creating an invisible barrier.
From now on, eat, drink and kiss your darling — without having to retouch your lipstick!
---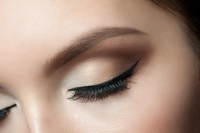 EYEBROWS
Over-plucked your eyebrow? Need to use an eyebrow pencil to define them? Then you'll appreciate permanent makeup. Keep your eyebrows at all times, and don't spend another minute drawing them on! Using various techniques, I can give an appearance of short, natural hairs or simply add shading to broaden the eyebrows, correct their shape or bring them out if they are too sparse or pale. Well-defined eyebrows frame your face and give it expression, brining out your beauty.
You'll be able to wake up, bathe, and change clothes without ever having worry about redoing your eyebrow line.



---
BREASTS AND SCARS
Micropigmentation is very useful to women whose breasts are scarred following surgery or who suffer from depigmentation. If you underwent cancer surgery and have an implant, I can re-create a nipple that's practically identical to the existing one using pigments specially designed for various areola shades. Cosmetic correction and camouflage are proven to be beneficial procedures.
You might also be interested in having a beauty mark implanted on your face or body!
---
For any questions, do not hesitate to call me at 514 867-1320 or to email me at info@maquillagesi.com, it will be my pleasure to respond, and perhaps help you be SI BELLE EN TOUT TEMPS!